Pamoja Africa...
...it came to pass
Pamoja Africa Conference took place in Nakuru, Kenya. It brought together over 2,500 participants from over 34 African nations. This wa the first time in history when students and professionals gathered together in such magnitude and diversity on the continent of Africa.
PAMOJA CONFERECE HIGHLIGHTS
The Vision for Pamoja Africa Conference was to accelerate the the building of a new generation of Spiritual leaders for a new Africa and beyond.
Pamoja Brought together 2800 Participants
During the outreachin Nakuru, over 2000 people were exposed to the gospel
1000 made decisions for Christ
37 African countries were represented at Pamoja; including observers from an additional eight countries (UK, USA, Singapore, Australia, Indonesia, Taiwan, Canada and Korea
5 Non African countries were represented.
A total of 1,489 delegates made a commitment to serve the Lord
354 made dicions to join full time Christian ministry

Pamoja brought together over 2500 delegates

Specail Thanks All who joined with us in praying and giving to Pamoja Conference

UPCOMING SHORT TERM MISSION PROJECTS
UGANDA: RUC 2007 -Reaching Uganda Campuses. 15th August to 15th September 2007.
Download the Brochure:
The Project fee is US$200 per person for accomodation, meals and transport during the project. This amount does not include transport costs to and from Uganda.
Register for the project Today.
Click here to register.
PAMOJA 2008 - PROFESSIONALS
There will be a special Pamoja Conference exclusively for professionals. Look out for further details.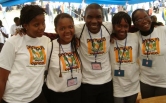 For many, Pamoja was a great experience for a lifetime.